Category Archives:
News & Photo Gallery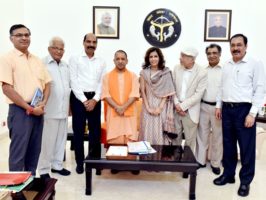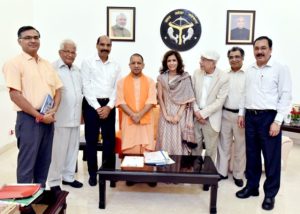 A delegation of Indian Society of Industrial and Applied Mathematics met Hon'ble Shri Yogi Aditya Nath Maharaj Ji, Chief Minister, Uttar Pradesh on 16th August, 2017, 9:30 AM at CM Residence in Lucknow to discuss promotion Applications of Mathematics.
Seen in picture are Shri Yogi Aditya Nath Ji, Mr. YK Gupta, Pro Chancellor, Sharda University (1st left), Prof. UP Singh, a distinguished mathematician & former Vice Chancellor (2nd left), Prof. P Manchanda, Secretary, ISIAM & HoD, Department of Mathematics, GNDU, Amritsar (1st right), Prof. AH Siddiqi, President -ISIAM & Ex. PVC, AMU (2nd right), Prof. NK Gupta, IIT Delhi, Ex. President, ISIAM & Vice President INSA, (3rd right) and Prof. RC Singh, ISIAM & COE, Sharda University (4th right), Dr. Sushil Kumar ISIAM & HoD Department of Mathematics, GBU (3rd left).